Formation of the Universe
13.8 BILLION YEARS AGO
The age of the universe is estimated to be around 13.8 billion years. This estimate is based on several lines of evidence, including observations of the oldest known stars in the Milky Way galaxy, studies of the cosmic microwave background radiation, and measurements of the abundance of light elements, like hydrogen.

The age of the universe can be estimated by observing the oldest known stars and using the principles of nuclear physics to determine how long these stars have been burning hydrogen into helium. These stars, known as metal-poor halo stars, are thought to have formed shortly after the Big Bang, and their ages provide an estimate for the age of the universe.

Another line of evidence comes from the study of the cosmic microwave background radiation, the afterglow of the Big Bang, which has been measured and studied in great detail by various space-based observatories. The observed pattern of fluctuations in the microwave background radiation allows scientists to determine the age, composition, and structure of the universe.

Finally, measurements of the abundance of light elements such as hydrogen and helium provide additional information about the age of the universe. These elements were produced in the first few minutes after the Big Bang, and their relative abundances can be used to determine the age of the universe. While the exact age of the universe may never be known with certainty, the available evidence points to an age of around 13.8 billion years, give or take a few hundred million years.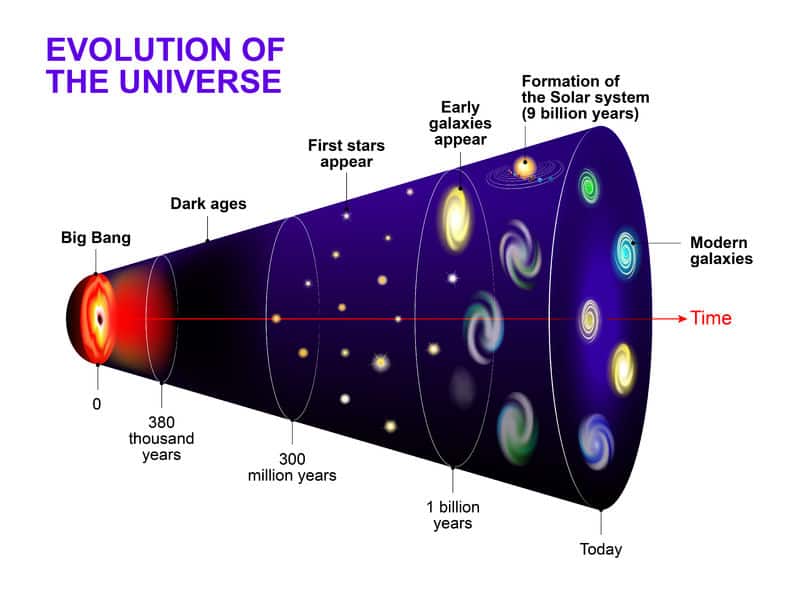 FIRST 20 MINUTES OF THE UNIVERSE
PLANCK EPOCK
GRAND UNIFICATION EPOCH
ELECTROWEAK EPOCH
QUARK EPOCH
HADRON EPOCH
LEPTON EPOCH
PHOTON EPOCH
Theochronic Eon
FIRST CONCEIVABLE EON
The Theochronic Eon extends from an undefined point infinite years ago until the Big Bounce. While typically the Big Bang is accepted by scientists as the point for the formation, or expansion, of the universe, the Big Bounce takes it one step further in asserting that a Big Crunch (an event many scientists anticipate in the future) occurred and was immediately followed by the Big Bang as a previous universe collapsed and the current one was formed.

Besides the previous universe, evidence has been detected that suggest that multiple universes may exist in the cosmos today, and the one known to science may have collided with others as many as four times, while other evidence suggests that something outside the universe - possibly another universe - is tugging at objects in the known universe. While there is evidence for the Big Bounce, it is unknown if this was a first-time occurrence or if there has been a long-lasting cycle of bounces.

Very little is currently known about the conditions in this eon, and humanity may never have concise information from this time, so while it is quite possible that life may have existed in the previous universe to some extent and it is highly probable that this time would be divided into several eons if the necessary information existed, it cannot be divided further at this point in time.

SEE ALSO:
SOURCE
Proteimeran Eon
(13798 MYA - 4568 MYA)
PALEOPROTEIMERAN ERA
PRECELESTIAL PERIOD
PALEOCELESTIAL PERIOD
MESOPROTEIMERAN ERA
EOGALACTIC PERIOD
NEOGALACTIC PERIOD
NEOPROTEIMERAN ERA
NEPHELEAN PERIOD
EREBREAN PERIOD
Hadean Eon
BEGINNING OF EARTH
(4600 MYA - 4000 MYA)
PRE-NECTARIAN
NECTARIAN
CHOATIAN ERA
HYPERITIAN PERIOD
TITANOMACHEAN PERIOD
HEPHAESTEAN PERIOD
ZIRCONIAN ERA
JACOBIAN PERIOD
CANADIAN PERIOD
PROCRUSTEAN PERIOD
NEOHADEAN ERA
ACASTAN PERIOD
PROMETHEAN PERIOD
Archean Eon
BEGINNING OF THE WORLD
(4000 MYA - 2500 MYA)
During the Archean Eon, the Earth was a very different place from what it is today. The planet was still cooling from its formation and the atmosphere was composed mainly of carbon dioxide, methane, and ammonia. Life had not yet emerged, but the conditions were ripe for the evolution of simple forms of life, such as bacteria and algae.

One of the most significant events of the Archean Eon was the formation of the first continents, which were composed of granite and other types of rocks that were lighter than the basaltic crust of the early Earth. These continents provided a stable platform for the development of life and helped to create the conditions that eventually led to the emergence of complex organisms.

The Archean Eon was also a time of intense volcanic activity, which released large amounts of gases into the atmosphere and created new landmasses. This period was critical in shaping the geological and environmental conditions that would eventually lead to the evolution of life on Earth.
EOARCHEAN ERA
PALEOARCHEAN ERA
(3,600 MYA - 3,200 MYA)
VALBAARA FORMED
One of the Earth's largest supercontinents.
MESOARCHEAN ERA
NEOARCHEAN ERA
Proterozoic Eon
OXYGEN FORMS ON EARTH
(2500 MYA - 539 MYA)
PALEOPROTEROZOIC ERA
MESOPROTEROZOIC ERA
NEOPROTEROZOIC ERA
TONIAN PERIOD
CRYOGENIAN PERIOD
EDIACARAN PERIOD
Phanerozoic Eon
FIRST PLANTS AND ANIMALS
(538.8 MYA)
PALEOZOIC ERA
CAMBRIAN PERIOD
ORDOVICIAN PERIOD
DEVONIAN PERIOD
CARBONIFEROUS PERIOD
PERMIAN PERIOD
MESOZOIC ERA
TRIASSIC PERIOD
JURASSIC PERIOD
CRETACEOUS PERIOD
CENOZOIC ERA
PALEOGENE PERIOD
NEOGENE PERIOD
QUARTERNARY PERIOD
Prehistoric Era
(2.5 MYA - 1,200 B.C.E.)
THE STONE AGE
THE BRONZE AGE
THE IRON AGE
FIRST CIVILIZATION
MESOPOTAMIA
4000 B.C.E.
The world's first civilization is widely considered to be ancient Sumer, which emerged in Mesopotamia (present-day Iraq).
MAJOR ADVANCEMENTS
FIRST SYSTEM OF WRITING (CUNEIFORM)
FIRST GOVERNMENT
IRRIGATION
INVENTION OF THE WHEEL
ANCIENT EGYPT
(FORMED AROUND 3000 B.C.E.)
The ancient Egyptian civilization is one of the oldest and most fascinating in human history. It is believed to have begun around 3100 BCE, when King Menes unified Upper and Lower Egypt into a single kingdom. This event is considered to be the beginning of the First Dynasty of Egypt.
THE OLD KINGDOM
(2686 - 2181 B.C.E.)
During this period, the pyramids were built, and Egypt became a highly centralized state with a strong pharaonic monarchy.
THE MIDDLE KINGDOM
(2055 - 1650 B.C.E.)
This period saw the rise of the cult of Osiris, the god of the afterlife, and the expansion of trade and diplomacy with neighboring regions.
THE NEW KINGDOM
(1550 - 1077 B.C.E.)
The New Kingdom saw the rise of powerful pharaohs like Hatshepsut, Akhenaten, and Ramses II, as well as the construction of many impressive temples and tombs.
THE LATE PERIOD
(712 - 332 B.C.E.)
This period saw the decline of pharaonic power and the invasion of Egypt by a number of foreign powers, including the Persians and the Greeks.
LIFE OF CLEOPATRA
(69 B.C.E. - 30 B.C.E.) Classical Era CLASSICAL ANTIQUITY (600 B.C.E. - 476 A.D. OR C.E.)
MOUNT VESUVIUS ERUPTS IN POMPEII
JESUS OF NAZARETH
(6-4 B.C.E. - 30 C.E)
BORN BETWEEN 6-4 B.C.E.
BAPTIZED AROUND 27-29 C.E.
CRUCIFIXION EITHER YEAR 30 OR 33
ANCIENT GREECE
ANCIENT ROME
PERSIAN EMPIRE
BYZANTINE EMPIRE
Middle Ages
THE DARK AGES
(476 C.E. - 1450 C.E.)
LATE ANTIQUITY
HIGH MIDDLE AGES
LATE MIDDLE AGES
CRISIS OF LATE MIDDLE AGES
14TH CENTURY
RISE OF HUMANISM
(1300 - 1399)
TRIALS OF KNIGHTS TEMPLAR
GREAT FAMINE
BLACK DEATH KILLS 1/3 OF EUROPE
MING DYNASTY BEGINS
GREAT SCHISM
OTTOMAN EMPIRE BEGINS
15TH CENTURY
THE RENAISSANCE
(1401 - 1500)
100 YEARS WAR ENDS
FALL OF CONSTANTINOPLE
THE PRINTING PRESS CREATED
16TH CENTURY
RISE OF WESTERN CIVILIZATION
(1501 - 1600)
COPERNICUS + HELIOCENTRIC UNIVERSE
GALILEO INVENTS THERMOMETER
THE MONA LISA CREATED
NOSTRADAMUS BORN
MICHELANGELO PAINTS SISTINE CHAPEL
MACHIAVELLI WRITES THE PRINCE
ROMEO & JULIET PUBLISHED
17TH CENTURY
EARLY MODERN ERA (1601 - 1700)
EUROPEAN COLONIZATION OF THE AMERICAS
RUSSIAN FAMINE
FIRST PUBLICATION OF KING JAMES BIBLE
ST. PETER'S BASILLICA COMPLETED
AUROCHS GO EXTINCT
FIRST OPERA HOUSE OPENS
18TH CENTURY
AGE OF ENLIGHTENMENT
(1701 - 1800)
FIRST INDUSTRIAL REVOLUTION
ST. PETERSBURG FOUNDED
ANGLO-SAXON WAR ENDS
PEAK OF LITTLE ICE AGE
SEVEN YEARS WAR
NEW ZEALAND AND AUSTRALIA MAPPED
ILLUMINATI FOUNDED BY ADAM WEISHAUPT
(1776)
DECLARATION OF INDEPENDENCE
U.S. CONSTITUTION
"THE TIMES" 1ST PUBLICATION
NEW YORK STOCK EXCHANGE FOUNDED
(1780 - 1800)
RUSSIAN ANNEXATION OF CRIMEA
FRENCH REVOLUTION
FIRST STEAM ENGINES
PHOTOSYNTHESIS DISCOVERED
LITHOGRAPHIC PRINTING PROCESS INVENTED
19TH CENTURY
REVOLUTIONARY PERIOD
(1801 - 1900)
FRENCH REVOLUTION
NAPOLEONIC WARS
AMERICAN REVOLUTIONARY WAR
AGE OF IMPERIALISM
VICTORIAN ERA
20TH CENTURY
START OF MODERN ERA
(1900 - 1910)
SECOND INDUSTRIAL REVOLUTION
(1910 - 1920)
WORLD WAR 1
(1920 - 1930)
THE ROARING 20'S
PROHIBITION
FIRST FLIGHT ACROSS ATLANTIC
THE BIG BANG THEORY PROPOSED
WORLD POPULATION = 2 BILLION
DISCOVERY OF PENICILLIN
STOCK MARKET CRASHES
(1930 - 1940)
THE GREAT DEPRESSION
SPANISH CIVIL WAR
(1940 - 1950)
ATTACK ON PEARL HARBOR
WORLD WAR 2
ATOMIC BOMB IN HIROSHIMA
GANDHI ASSASSINATED
COMMUNIST PARTY COMES TO POWER IN CHINA
(1950 - 1960)
VIETNAM WAR BEGINS
WORLD POPULATION = 3 BILLION
(1960 - 1970)
BERLIN WALL IS BUILT
JFK ASSASSINATED
FIRST MAN WALKS ON MOON
WORLD POPULATION = 4 BILLION
WOODSTOCK FESTIVAL
(1970 - 1980)
MARGARET THATCHER BECOMES THE FIRST FEMALE PRIME MINISTER OF ENGLAND
(1980 - 1990)
US SPACE SHUTTLE CHALLENGER MISSION FAILS, KILLING ALL 7 ASTRONAUTS
WORLD POPULATION = 5 BILLION
BERLIN WALL TORN DOWN
(1990 - 2000)
HUBBLE SPACE TELESCOPE CREATED
SOVIET UNION COLLAPSES
WORLD POPULATION = 6 BILLION
THE Y2K BUG
21ST CENTURY
(2000 - 2010)
9/11 ATTACK
IMPLEMENTATION OF THE EURO
GUANTANOMO BAY OPENED
SADDAM HUSSEIN KILLED
HURRICANE KATRINA
TSUNAMI KILLS 230,000
INTRODUCTION OF FACEBOOK
FIRST IPHONE IS RELEASED
BARACK OBAMA BECOMES THE 1ST BLACK PRESIDENT OF THE U.S.
(2010 - 2020)
LARGE HADRON COLLIDER COMPLETED
(2020 - PRESENT)
COVID-19 PANDEMIC