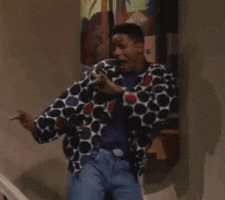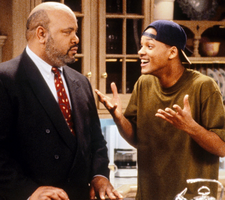 Synopsis
The Fresh Prince of Bel-Air is an American sitcom starring Will Smith, who plays a witty and street-smart fictional version of himself. Born in Philadephia as a member of the lower class, Will finds himself getting into trouble as a teenager and is sent by his mother to live with his affluent relatives in Bel-Air, where he is confronted with a completely different type of life from what he has grown accustomed to. In Bel-Air, Will must rise to meet the strict standards set by his Uncle Phil and Aunt Vivian, their preppy children, Hilary, Carlton, and Ashley, as well as the family's distinguised butler, Geoffrey.
Although he does not fit in at first, and his spats with Hilary and Carlton become a regular joke on the show, Will eventually finds a place for himself alongside his upper-class peers. They influence Will, and Will has an equally important influence on them. Each side is shown a different perspective on life, and the show tackles deep and meaningful issues such as race, class, wealth vs. poverty, family, romance, coming-of-age, and the connection between education and criminality.
My Critique
I absolutely adore this show because as a young kid, it did for me what I think it did for so many others. It showed me a perspective on life that I was unfamiliar with. It gave me exposure to themes and stories that I otherwise would not have known about until perhaps much later in life. The show was not cheesy or childish, it was real. It is comedic, sure, but the show is also steeped in a heavy dose of seriousness. It asks important questions, and brings consequential issues to light such as the importance of fatherhood and male role-models, the impact of racism and class inequality, and the value of quality friendship and education.
If for some reason you haven't gotten around to watching this show, I seriously recommend it! Not only is it nostalgic, sentimental, and fun, it is also culturally significant and informative. This one gets four stars from me because I think it is genuinely deserving and worth a watch!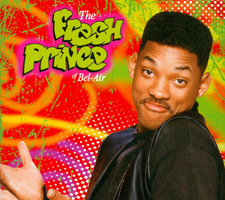 Theme Music
Video Gallery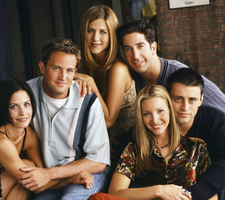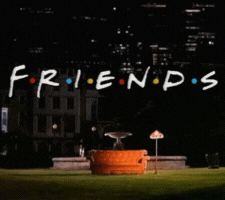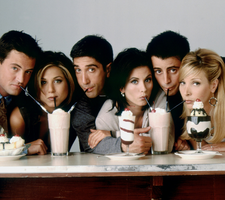 Synopsis
Okay, so I'm going to admit it. I didn't watch this show growing up. It was only recently that I started catching re-runs (because they're constantly playing on TV), and I'm definitely more of a
How I Met Your Mother
fan. However, I included this show because I know that it was a staple of the 90's and 00's, and is important enough to be featured here.
Friends
follows a friend group living in Manhattan, New York: Rachel, Monica, Phoebe, Joey, Chandler, and Ross. The group likes to hang out at a coffee shop, Central Perk, where they tell jokes and share with each other the trials of adulthood as they attempt to make it in the big city.
My Critique
The show only gets two stars from me because although it is funny and nostalgic, I believe that it is an unrealistic depiction of life for the average 20-something living in New York. It is especially unrealistic in the current year, 2023, because there is no possible way that a young person could live life in New York City now in the way that the Friends characters did, while working minimum-wage jobs in a coffee shop or in other entry-level positions. I believe that it paints a picture of adulthood that only the ultra-privileged can experience. The show also tackles issues in such a comedic and nonchalant way that it can come across as tone-deaf. It is great for mindless entertainment and laughs, but it misses the mark in its approach towards any/all serious topics.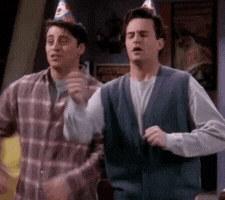 Theme Music
Video Gallery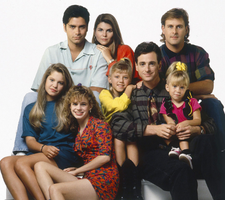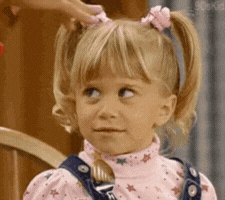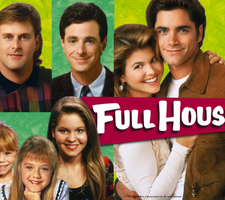 Synopsis
Full House
was one of the most popular family sitcoms of the 90's. It follows the story of a recently widowed man, Danny Tanner (Saget), as he attempts to raise his three daughters, Donna-Joe (known as D.J., played by Candace Cameron), Stephanie (Sweetin), and baby Michelle (Mary-Kate and Ashley Olsen) on his own. In the first episode, he enlists help from the brother of his late wife: cool, leather jacket wearing, Elvis Presley look-alike Jesse Katsopolis (Stamos), as well as Danny's best friend from college: funny, childish, puppeteering, Joey Gladstone (Coulier).
While living under the same roof, the three men tackle their own battles while raising the girls to the best of their ability. Jesse is burdened by domestic life and struggles with settling down. Joey worries about his career, his love life, and his friendship with Danny. Meanwhile, Tanner works to overcome the devastating loss of his wife, as well as the hardship of raising three girls without her. D.J. struggles to handle her responsibility as the oldest daughter, Stephanie fights for attention as the middle child, and Michelle provides comedic relief as a bubbly toddler with the catchphrase "You got it, dude!". It's sappy, it's sweet, it's serious. It's a story of family, loss, coming-of-age, brotherhood and sisterhood.
My Critique
I was absolutely OBSESSED with Full House as a kid. I think it was John Stamos. I definitely had a crush on him! I also heavily related to D.J. Tanner (Cameron), as an oldest sister myself. I thought that the show was, although corny at times, relatable. My parents are divorced and both sides remarried, so I understood some of the struggles the three Tanner girls faced in terms of watching their father date other people, growing up in a large family, and the chaos that comes with having many people living together. I also loved the idea of "everywhere you look" there being someone you can turn to, and I really enjoyed watching the relationship grow between D.J. and Aunt Becky (Loughin), because I felt it was very similar to the relationship that I had growing up with my stepmother (Aunt Becky wasn't the Tanner's stepmother, but still).
That being said, I think the series often misses the mark. Many of the characters were used as gimmicks, and they didn't have a chance to be fully fleshed out (Kimmy Gibbler is one, for example). I think that the "hug-it-out" moments at the end of every episode felt forced at times, as if the family was not allowed to have real problems and situations because it always had to be resolved by the end of the episode. The blueprint the show followed of having a problem arise, only to be solved after fifteen minutes by nothing more than a family pow-wow is fake. In the real world, children don't just magically get over being mad or upset by having a sit-down with their family. Actually, real-world problems such as losing a parent can have profound psychological impacts, and I felt that was an extremely overlooked aspect of the family dynamic.
Because of this, Full House gets three stars from me. It is deeply nostalgic, an undeniable classic, but it is shallow at times.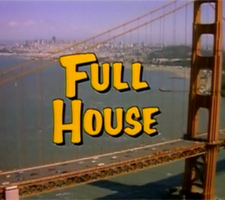 Theme Music
Video Gallery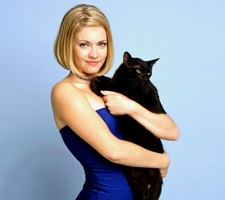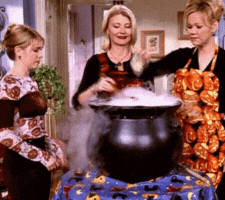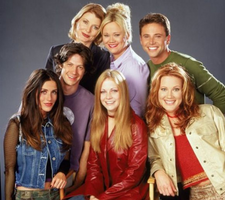 Synopsis
Sabrina the Teenage Witch
is a classic coming-of-age story, except not only is Sabrina (Hart) rising into womanhood, she is also a witch and must learn all the secrets of her craft. She is kept under close watch by her 600-year-old aunts, Hilda (Rhea) and Zelda (Broderick). In many ways, Sabrina is a completely normal teenage girl. She attends highschool, has friends, goes on dates, enjoys listening to Britney Spears and No Doubt. Yet, she has recently learned that she is a witch and must undergo training to learn everything there is to know about magical arts. As a developing witch, her spells often go awry to comedic effect.
My Critique
Keepin' it real here: this show didn't do much for me. I was deeply entrenched in the Harry Potter and Buffy the Vampire Slayer universe at this time, so this show should have been right up my alley. For me, though, the series just didn't work.
The all-too-normal world of Sabrina Spellman made magic feel like an afterthought, and there was very little world-building that actually made any sense to me. Additionally, a majority of the show's jokes just didn't land properly. The high-point of the series is Sabrina's cat, Salem, a warlock forced to live life for an eternity stuck inside of a cat's body as punishment for attempting to take over the world. Salem was blunt and matter-of-fact, sarcastic and clever. Everything else felt contrived, slapstick, and cheap. I also didn't completely "buy" Melissa Joan Hart as a teenage girl. She was clunky and forced, appearing both too old for the role and yet too immature at the same time.
This show gets two stars from me because of Salem, but otherwise I'm not a big fan!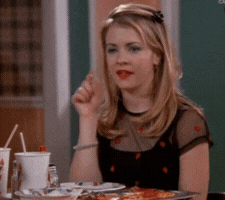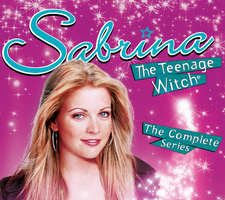 Theme Music
Video Gallery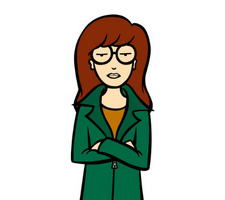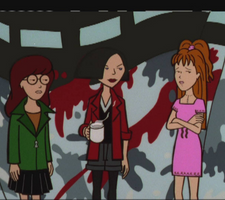 Synopsis
A spin-off of
Beavis and Butt-Head
,
Daria
is distinctly adult in the way it portrays teenage life. The series follows the Morgandorffer family: charming but dopey patriarch Jake (Rebolledo), workaholic mother Helen (Hoopes, who also voices Quinn and Jane Lane), plus their teenage daughters Daria (Grandstaff) and Quinn.
Younger daughter Quinn is a stereotypical 90's teenage girl. She wants to be popular, loves shopping, makeup, boys, and going to parties. Daria is the complete opposite. Misanthropic, intelligent beyond her years, pessimistic, and rather dark at times, Daria could care less about popularity and goes out of her way to avoid after-school events. She prefers reading and music over dating and hanging out.
Upon starting Lawndale High, she becomes friends with Jane Lane, a fellow outcast. Together, they quip about the triviality of high school, the pitfalls of society, and the shallowness of human nature.
My Critique
I frickin' love Daria!
The art style of this series is unique and nostalgic, dripping with character. The deadpan jokes never fail to make me giggle. It's witty and smart. The rare moments when we get to see Daria lower her guard are fascinating, and I absolutely adore Jane Lane's takes on modern society. The show is crass at times, and doesn't take itself too seriously. Daria's delivery and one-liners are classic. She is drolling, pessimistic, melancholy, and aloof.
On the other hand, Quinn Morgandorffer, although vain at first glance, also possesses a unique sense of intelligence. I enjoy that her interests are not downplayed, from the viewer's perspective at least. It is only in the eyes of Daria and Jane that Quinn is perceived as lesser than, and in reality she understands things about life that Daria and Jane just can't quite grasp yet. Quinn understands that following the status quo can lead to easier success in life, which translates in a way that is not mindless, but calculated and profound.
The show is riddled with impressive metacommentary that can be completely missed if you stop listening for just a second. For that reason, this show gets four stars from me. If you haven't seen it, this is one that I would definitely suggest!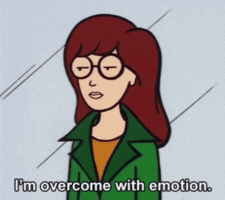 Theme Music
Video Gallery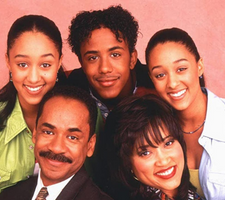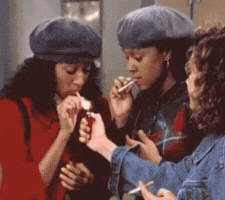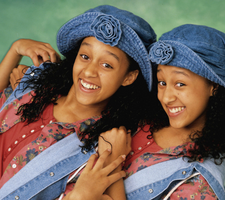 Synopsis
Sister, Sister
is the story of an unconventional family that forms after identical twin teenage girls, Tia and Tamera Mowry (both playing fictionalized versions of themselves) meet by accident during a chance encounter while shopping at the mall with their adoptive parents. The twins were seperated at birth and adopted out to different parents; Tia was taken in by Lisa (Jackee Harry), and Tamera by Ray (Tim Reid). Lisa is a seamstress living in Detroit with Tia, and Ray owns a limousine rental company while living in the suburbs with Tamera.
The twins and their parents move in together after Lisa suggests they get to know each other, and Ray invites them to move in rather than accept a job offer Lisa has in St. Louis. The show stresses the personality differences between Tia and Tamera. Tia is intelligent and bookish, and Tamera is outgoing and fun. Coincidentally, each twin's parent is the opposite. Ray is hyper-focused on success and morality, a rather uptight character. Lisa on the other hand is flamboyant, blunt, and charismatic. The family's nerdy neighbor, Roger, is infatuated with the twins and always visits them to make advances, to which the reply is always "Go home Roger!"
My Critique
In terms of each episode's storyline, it is all pretty standard for a teen series produced during this time. Tia and Tamera go through exactly what you would expect high school girls to go through. They face everything from zits and tests, friends and dating, first kisses and first loves, to first jobs and getting into college. What really stands out most to me about this show is the phenomenal acting. I love Harry's multifaceted depiction of Lisa. Lisa always says what is on her mind but remains classy, polished, and dignified while doing so. Despite her professionalism, she is also wacky, loud, and endearing.
I also really enjoy the fact that each twin has more in common with the other twin's parent, so each relationship between parent and child has a chance to blossom. In terms of character development, the show nailed it. By the end, Tia and Tamera have both grown to become unique individuals. They evolve so much, eventually phasing out of their goofy teen years to become beautiful young adult women. It really is fascinating to see!
The show receives 3 stars from me. I think it's an amusing watch, but not revolutionary. It is not overly nostalgic, yet has a unique aesthetic pleasing to the eye. It borders on trite, and doesn't dig as deep as it should. Definitely worth a watch, but otherwise there's not a ton to write home about.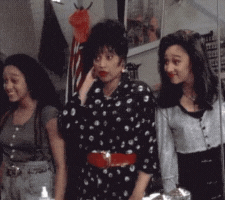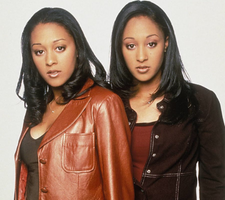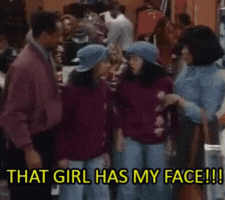 Theme Music
Video Gallery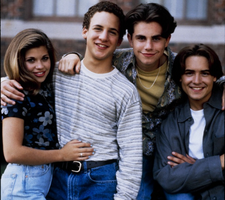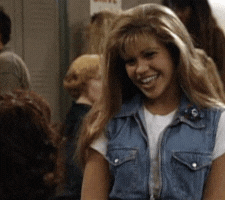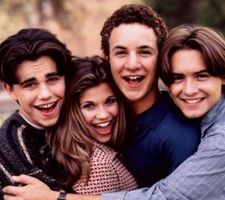 Synopsis
Another popular coming-of-age story,
Boy Meets World
centers around the Matthews family, a typical American nuclear family consisting of parents Alan (Russ) and Amy (Randle), oldest brother Eric (Friedle), middle child Corey (Savage), and youngest daughter Morgan (Nicksay and Ridgeway). The series follows Corey's adolescence in particular, but the lives of his family and friends Topanga (Fishel) and Shawn (Strong) are also of interest. Corey is heavily influenced by academic mentor George Feeny (Daniels), who is his teacher for many years and also his next-door neighbor. Feeny teaches Corey and his friends important life lessons and helps them mature into adulthood. The series played for many years, starting as Corey enters the sixth grade, and not ending until after the crew makes it through college.
My Critique
This is a show that I hope to rewatch soon, because it has been many years since I have seen it and I would love to evaluate it from an adult perspective.
Boy Meets World
utilizes its characters in unique ways to tackle important issues. Corey, while fairly well-adjusted, struggles with empathy and often misunderstands social queues. He is neurotic and strange at times, not always fitting in. Meanwhile, Topanga is extremely intelligent, yet her perfectionism often stands in her way and she has difficulty enjoying life as a result of her excruciatingly high expectations. Shawn is more popular than Corey, but is rebellious and has a bad boy reputation. He doesn't do well in school and lives inside a tumultuous inner-world after being abandoned by both of his parents.
I think what is most interesting to me about
Boy Meets World
is how relatable the characters are. The series does not attempt to sell you perfect characters. Rather, they are each deeply flawed and undergo continuous evolution throughout the span of the show. This is true not only with our main characters, but our side characters as well. We see many countless characters join the cast, each possessing their own strengths, weaknesses, and hardships. It is very easy to watch the show and picture yourself among the group, because they are incredibly believable human beings and feel like real people. That could be your sister or brother on screen, or your mother and father, your best friend or your significant other.
Boy Meets World
creates a believable world that feels like everyday life. We grow up alongside these characters, and perhaps go through the exact same things as they do. Yet, we learn by observing their interactions and use that knowlege to advance in our own lives. In this way,
Boy Meets World
was crucial to the development of youth during this time. You would be hard pressed to find a young person in the 90's who did not watch this show, or at least caught minor glimpses and moments. For this reason, the series was highly influential and continues to be one of the greatest teen dramedies of all time. Another four star show!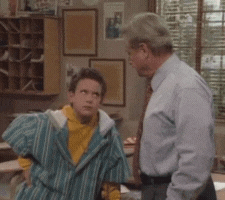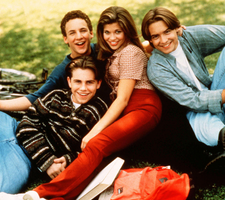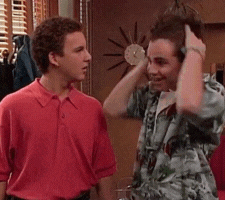 Theme Music
Video Gallery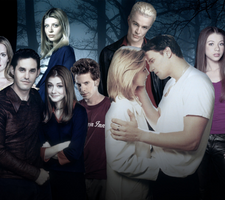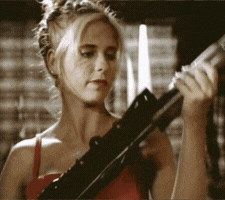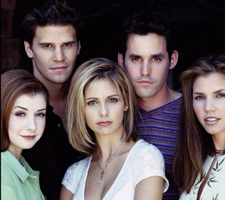 Synopsis
Buffy's universe begins with our protagonist, Buffy Summers (Gellar), as she starts another year of high school at a new school, Sunnydale High. Buffy has recently moved to Sunnydale from L.A., after an incident at her last school got her expelled. We find out pretty early on in the first episode that Buffy is a vampire slayer, the one girl in all the world chosen to defend against darkness and evil. She was chosen for this, and Buffy isn't too happy about it. We learn that Buffy wants to live a normal life, but will be forced to fulfill her obligations as slayer by her school's librarian (and her Watcher), Giles (Head).
Buffy becomes fast friends with Willow (Hannigan) and Xander (Nicholas Brendon), who also learn that she is a slayer. Together, the trio work to stop evil and fight the bad guys. With the help of Giles and the Scoobies, Buffy uses her powers to overcome vampires, demons, warlocks, gods, and various other monsters.
Conveniently, Buffy's new high school is built on top of a Hellmouth. Yes, the mouth of hell. This means that a bunch of super bad guys hang out around there, and it is a hub for all things paranormal. The show had a tendency to center each season around defeating a "big bad", which would be the most evil character to be defeated over the course of an entire season. Along the way, Buffy and the gang would essentially find clues to help them discover, identify, fight, and defeat the enemy. There would be various "smaller evils" to be defeated along the way.
My Critique
Okay, so I'm going to start by saying that
Buffy the Vampire Slayer
is my absolute favorite. I have many favorite shows, but this one takes the cake. There are so many things I love about Buffy that I could talk about it for days. That's why I created an entire
vault
dedicated specifically to Buffy the Vampire Slayer, so I can go in much more detail over there.
For the sake of remaining unbiased on this page, I'm just going to say that if you haven't watched Buffy, you should definitely check it out. It is a highly significant series, and there's a lot of twists and turns along the way. It's not a perfect show, but it is an important part of the history of modern television. Buffy the Vampire Slayer was groundbreaking in many ways, and definitely offers a lot to talk about! Please check out my BTVS vault if you are interested in learning more, I am constantly developing and adding new content.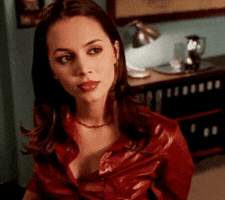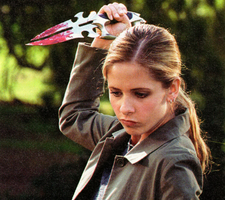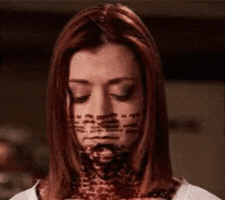 Theme Music
Video Gallery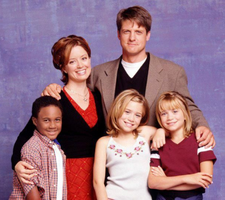 Synopsis
Two of A Kind is a cute show, perfect for tweens, starring Mary-Kate and Ashley Olsen as themselves, and Chris Sieber as their widowed father Kevin, a scientist. The girls need a babysitter so their father interviews potential candidates, causing him to meet Carrie (Sally Wheeler), a prospective babysitter. Carrie is eccentric and unafraid to speak her mind. Kevin is reluctant to hire her, but the twins love her and end up convincing him. The two become romantic partners, and the show goes on to teach about family, love, and life. However, it only ran for a year and there isn't a ton to talk about critically.
My Critique
I had a pretty hard time deciding how I wanted to present the Mary Kate and Ashley franchise here on this website. They started so young, on Full House, and then moved on to projects like this as children and tweens. This particular show,
Two of a Kind
, was only around for a year and never even had a DVD release. The Olsens went on to produce so many other shows, movies, books, and products that I just didn't really know how to tackle it all. At some point I will add them each one by one, but this will take time, and I still don't have it all worked out entirely.
This show led to
The Adventures of Mary Kate and Ashley
. It gets one star from me because I don't remember it being anywhere near as memorable as some of the Olsen's other work, which I will post about more at a later date. There's also nowhere to purchase the series directly, and there is very little information online about it.
Still, Mary-Kate and Ashley were iconic, and this is where I'm choosing to begin documenting their legacy.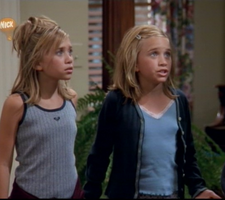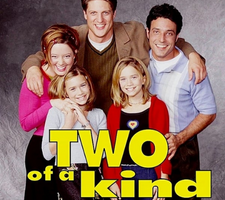 Theme Music
Video Gallery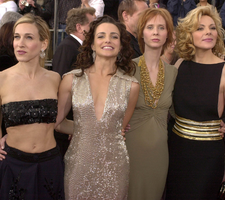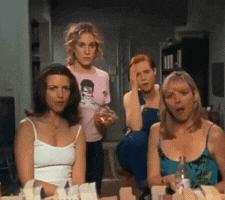 Synopsis
Sex and the City
follows the friendship of four New York City women, Carrie Bradshaw (Parker), Samantha Jones (Cattrall), Charlotte York (Davis), and Miranda Hobbes (Nixon). Carrie is a writer and has a column in the New York City paper that talks about sex, obviously. At least for the most part. Her column also talks about what dating is like in the big city, the prospect of getting married, modern-day womanhood, motherhood, friendship, fashion, and shoes.
Her friend Samantha is a promiscious public relations specialist who lives lavishly and frequently sleeps with many different men. Miranda is a career oriented lawyer, the most practical of the bunch, and the first to become a mother. She enjoys both her career and having casual sex, exuding an energy that is decidedly masculine. Charlotte, the hopeless romantic (although she has plenty of random sex as well) has ambitions to fall in love, get married, have children, and be a housewife.
The series begins when Carrie meets Mr. Big (Noth): a tall, dark, and handsome older man that Carrie falls for pretty quickly. The show spends many seasons chronicling their relationship. They start off by simply dating and having sex, then they get serious, then they break up. The two make up, get back together, then break up again. Eventually, Carrie dates Aiden (Corbett), a carpenter who she cheats on with Mr. Big, and the cycle repeats. Over and over and over again.
The lives and sexual escapades of each member of the group is followed closely as well, and they experience the highs and lows of life together.
My Critique
Sex and the City
has been analyzed repeatedly and holds weight for its cultural significance. Known for being contraversial, raunchy, and inappropriate, SATC appeared at the perfect moment to make waves. Produced at the end of the 90's, it was the culmination of an entire century of activism, and served as a response to the unprecendented liberation women experienced during this time.
For the first time, women were able to show up on television completely real and unfiltered. This was groundbreaking because it helped to paint a picture of what America's modern 21st century woman would look like. She's effortlessly sexy, wearing high-heels and sipping a cosmpolitan. She's smart, and knows how to work situations to her favor. She has close friends, an important career, and a beautiful apartment in the city. Not only does she have an incredible life, but she also has a wild and fulfilling
sex life
. Additionally, she is free to talk about her sex life whenever, wherever, with whoever, in as much detail as she pleases.
The show has a lot of really great qualities. I particularly enjoy the first few seasons and its improvisational tone. Supposedly-random New Yorkers are shown giving their input on the show's varying topics, breaking the fourth wall as they do so. It's funny and it's real, but a little tacky at times. There's relatable moments, and some that are not so relatable. The series was actually filmed in New York City, not on a set in Los Angeles, and it does a great job of capturing both the beauty and neurosis of New York, as well as how loud, busy, and demanding the city can be. Because they filmed the show in New York, it had many shots of the World Trade Center before the attack on 9/11, providing not only insight into the world prior to 9/11, but important commentary about the world afterward.
Here is something interesting, written in 2011 by
Nussbaum for The New Yorker
:
Overall, I find the whole Carrie and Mr. Big will-they/won't-they plot to be tiresome at best. By the end of the series, we appear to do a full circle from the moment it began, and the pair are back together again. Then the franchise goes on to create the longest movie sequel in the world, in which Carrie and Big do the same damn thing AGAIN! Carrie makes a lot of mistakes along the way, and can be a very irritating character to watch. She's narcissistic, whiny, bickering, judgemental, lives an unrealistically luxurious life for a semi-niche sex columnist, and doesn't treat her friends very well at times.
Many critics also note that the series repeatedly fails the
Bechdel test
. As a result, the friendship between each of the four women appears shallow, disconnected, and fake. The group's lack of chemistry on-screen was also caused by lots of behind-the-scenes drama between Parker and Cattrall.
For those reasons, Sex and the City gets a three from me!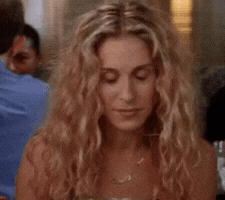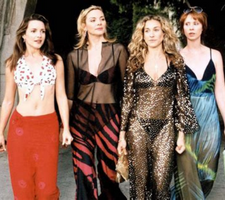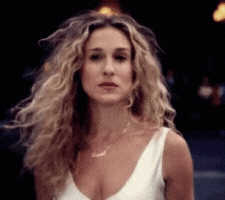 Theme Music
Video Gallery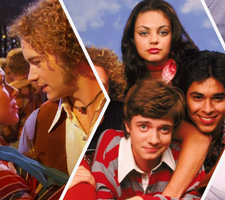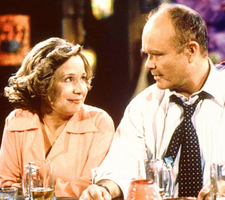 Synopsis
That 70's Show
is the story of Eric Foreman (Topher Grace), a typical teenage boy living in Point Place, Wisconsin. His parents are the overwhelmingly upbeat Kitty (Debra Jo Rupp) and Red (Smith), whose signature joke is that he will put his foot up anyone's ass who dares to bother him. Eric's best friend is Steven Hyde (Masterson), a troubled boy who was abandoned by his parents and now must shack up at the Foreman's, where Kitty has taken him in as a stray. Their next-door neighbor is Donna (Prepon), a tomboyish redhead who towers over all the boys both in height and intelligence. They are joined by a myriad of other friends and guests, the most important of which include thick-headed Kelso (Kutcher), popular girl Jackie (Kunis), and exchange-student Fez (Valderrama).
The group primarily hangs out in Eric's basement where they joke, listen to music, watch movies, smoke weed, and sneak beer. The group goes on different adventures: attending parties, music festivals, evenings at the drive-in theatre. Early on, the gang crosses the Canadian border to smuggle beer back home for a kegger. Later, the series stars Tommy Chong as the ultra-chill stoner Leo, who opens a record store in Point Place. There, members of the group work and continue to carry out their shenanigans as they grow up and experience life in the 70's together.
My Critique
In many ways,
The 70's Show
is a standard coming-of-age tale. There are bittersweet moments as they finish high school and everyone decides to write, "What a long strange trip its been in Eric Foreman's basement", as their senior quotes for the yearbook. Like so many other series on this list, the cast grows up on screen and you get to see them experience all the different "firsts". Yet, what sets it apart for me is the actual premise of the series. The show is about teens growing up, sure, but it isn't
just
a teen series, or a story about growing up. It's also a series about a decade, the 70's, a profound period in recent history. In a sense, it is a time capsule. Although not filmed in the 70's, it serves as a reflection of the 70's, showcasing all the things society associates with that period of time.
I really do love this show and I hate to tear it apart. That being said, it is really uneven at times. Although
That 70's Show
tackles some real issues and addresses a few of the actual problems stemming from this era, it only touches the surface. The insight the series offers about the 70's is romanticized and hardly an accurate depiction. In fact, many of the themes commonly associated with the 70's that are displayed throughout the series were actually events from the 60's, but the show fails to address that reality.
Additionally, many of the characters were poorly developed and hardly changed despite having many seasons to do so. When characters did evolve, which only a few of them did, the changes rarely made sense. Jackie's relationship with Fez felt very forced and unnatural, completely contradicting years of her completely rejecting him. At the end of the series, Eric decides to move to Africa to teach children, which felt random and did not fit in line with his development. It also caused Eric and Donna to break up abruptly after years of building their relationship, only to knock it down. The characters possessing the most natural progression, Hyde and Kelso, were often overlooked.
It's a three from me! Check it out if you're looking to pick some groovy, psychedelic vibes, but don't expect it to be much more than it is.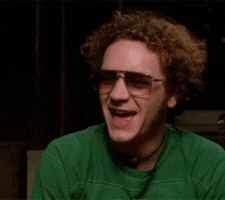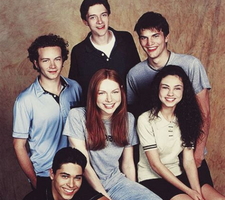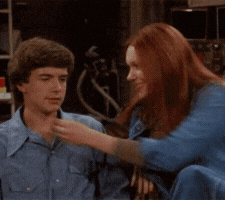 Theme Music
Video Gallery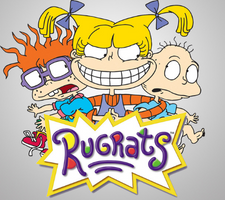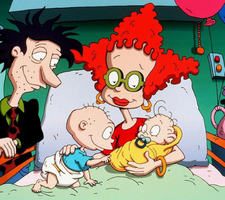 Synopsis
Rugrats
is an animated show about a group of toddlers (Tommy, Chuckie, Phil, Lil, and Angelica) who go on adventures while their parents are preoccupied. The show follows the toddlers as they navigate the world from their perspective, imagining and interpreting events in their own way. The show also explores the relationships between the children and their families, as well as the challenges they face.
One of the unique aspects of the series is its exploration of the toddlers' perspective on the world around them. It highlights the children's perspectives and their own interpretations of events, which often diverge from the adult perspective. The toddlers often come up with their own solutions to problems and are portrayed as resourceful, independent and curious individuals.
The show also delves into the relationships between the children and their families, including their parents and grandparents. It portrays the ups and downs of family life and the challenges faced by both children and adults as they navigate their relationships and responsibilities.
Rugrats
was a groundbreaking animated show that combined imaginative adventures with relatable family dynamics and humor, making it a beloved classic for many generations.
My Critique
This will be coming soon!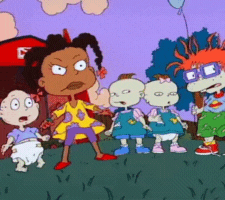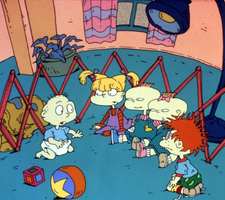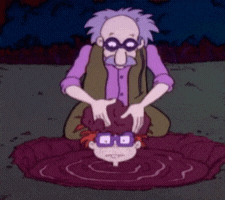 Theme Music
Video Gallery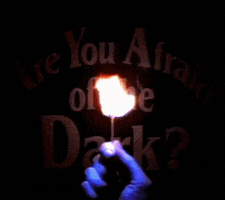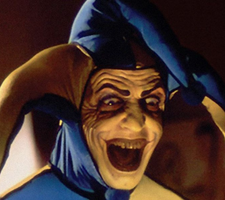 Synopsis
Are You Afraid of the Dark?
is a Canadian horror fantasy TV series that originally aired from 1990 to 2000. The show follows a group of teenagers known as the "Midnight Society" who gather around a campfire to tell scary stories. Each episode features a different story that usually involves supernatural elements and suspenseful plot twists. The show has become a cult classic for its imaginative storytelling and creepy atmosphere.
Are You Afraid of the Dark?
was a popular show for kids and teenagers during its original run, and has since gained a nostalgic following among its original audience. The show was known for its creative storytelling and spooky atmosphere, which often left viewers on the edge of their seats. The show also tackled a variety of themes including bullying, death, and mental health, making it a formative part of many people's childhoods. The series was praised for its ability to balance scares and humor, and its memorable characters and catchphrases have become a part of pop culture.
My Critique
This will be coming soon!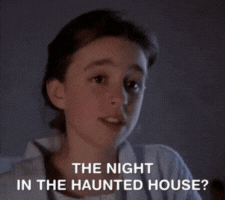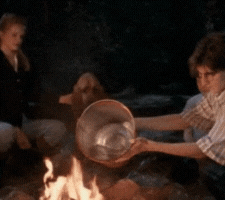 Theme Music
Video Gallery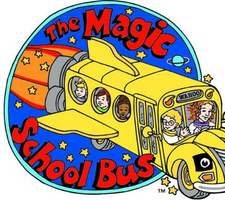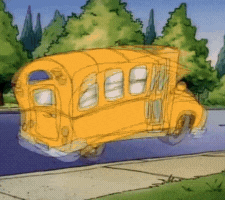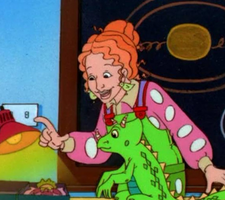 Synopsis
The Magic School Bus
is an animated educational TV show based on the children's book series of the same name. The show follows the adventures of Ms. Frizzle and her class of curious students as they embark on field trips using the magic school bus. In each episode, the class visits various locations and transforms into different objects to explore the world of science. The show teaches kids about subjects like biology, geology, astronomy, and many others in an entertaining and engaging way. The humor and creativity of the series has made it a beloved classic among children and educational programs, and it continues to be popular today.
The show's main character, Ms. Frizzle, was a quirky and enthusiastic science teacher who encouraged her students to explore the world around them. The magic school bus, which could shrink down to the size of a bug or grow as big as a planet, was central to each episode's journey of discovery. The show's unique approach to science education made it a favorite among kids and educators alike, as it made learning about complex subjects fun and accessible. The show's memorable characters, catchy theme song, and imaginative adventures have made it a beloved part of many people's childhoods.
My Critique
This will be coming soon!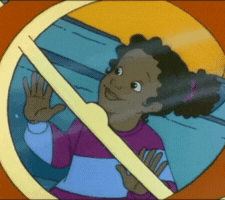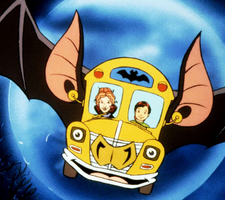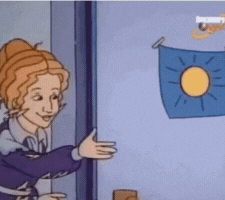 Theme Music
Video Gallery
Synopsis
7th Heaven
is a family drama TV series that follows the Camden family, a minister and his wife, as they raise their seven children in a small town. The series focuses on the daily challenges and issues the family faces, including love, loss, relationships, and moral dilemmas. Through it all, the family remains close and supportive, learning important life lessons and growing together.
Each of the seven children have their own personalities and challenges. The show explores a wide range of topics, including teenage romance, substance abuse, mental health, and spirituality. Throughout the series, the Camden family faces various trials and tribulations, but they always stand by each other and maintain their strong family bond. The series also highlights the role of faith and spirituality in the Camden family's daily lives and how it shapes their decision making.
Eric Camden, the father, is a minister and his work as a pastor is a major part of the show. The Camdens attend church regularly, participate in faith-based events and discussions, and often turn to their beliefs in times of crisis. The show portrays faith as a source of comfort, guidance, and strength for the Camden family, and it often provides a moral compass for the characters as they navigate complex issues and challenges. The series also touches on the importance of forgiveness, the power of prayer, and the value of a strong community of believers.
My Critique
This will be coming soon!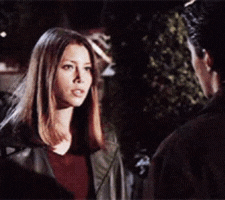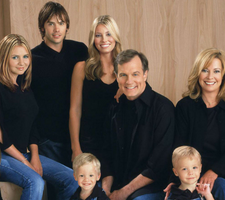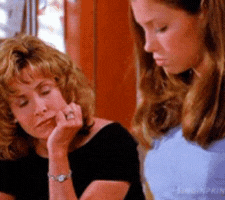 Theme Music
Video Gallery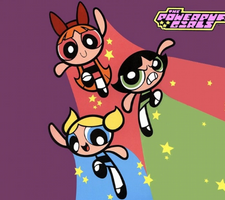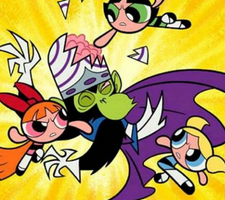 Synopsis
The Powerpuff Girls
is a beloved animated series that blends action, comedy, and girl power. The main characters are Blossom, Bubbles, and Buttercup, three kindergarten-aged girls with superpowers who are created by a scientist named Professor Utonium when he accidentally mixes Chemical X with sugar, spice, and everything nice. The girls use their superpowers, which include flight, super strength, and laser vision, to defend the city of Townsville against villains. The show is known for its bright and colorful animation, quirky humor, and empowering message of teamwork and sisterhood.
The girls live in the city of Townsville, where they protect citizens from various villains and threats. Each episode features the girls battling a different villain or saving the city from some kind of danger, using their powers and teamwork. The overarching plot of the show revolves around the girls' ongoing battle against their main adversary, Mojo Jojo, who is a former caretaker of the girls and the mastermind behind many of the evil schemes they face. Along the way, the girls face other villains, such as Fuzzy Lumpkins, HIM, and Sedusa, and learn valuable lessons about teamwork, friendship, and the importance of using their powers for good.
My Critique
This will be coming soon!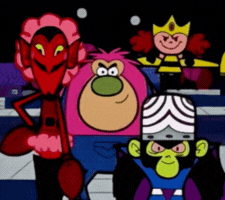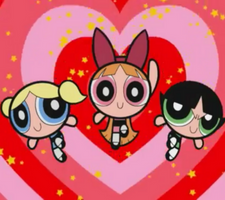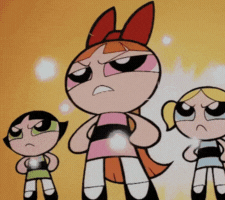 Theme Music
Video Gallery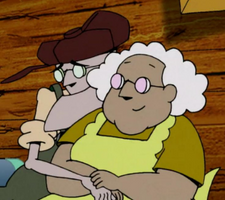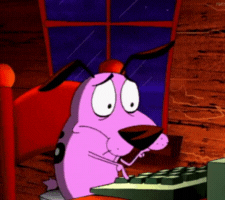 Synopsis
Courage the Cowardly Dog is an American animated television series that originally aired from 1999 to 2002. The show follows the adventures of Courage, a pink, anthropomorphic dog who lives with his owners, Muriel and Eustace, on a farm in the middle of Nowhere, Kansas. The main plot of the show revolves around Courage's efforts to protect his owners from various supernatural and paranormal threats, such as aliens, ghosts, and monsters. Despite his fearful nature, Courage must confront his fears and face these threats head-on in order to save his owners.
Throughout the series, Courage travels to various locations, both real and imaginary, and encounters a wide range of bizarre and frightening creatures. Despite his fear, he always rises to the occasion, using his wits and resourcefulness to defeat the villains and save the day. The show is known for its surreal and dark humor, its imaginative storytelling, and its unique animation style, which blends traditional animation techniques with abstract and avant-garde styles. It has been praised for its originality and creativity, and remains a cult classic among fans of animation and horror.
My Critique
This will be coming soon!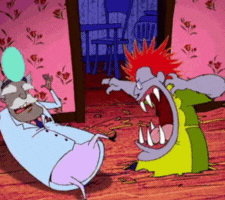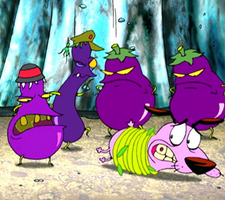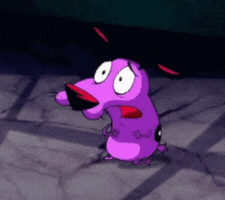 Theme Music
Video Gallery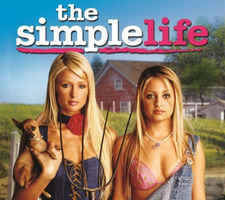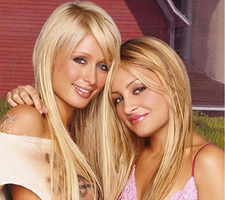 Synopsis
The Simple Life was a reality TV show that aired from 2003 to 2007. The show followed socialites Paris Hilton and Nicole Richie as they lived and worked on a farm in rural America, performing manual labor tasks and taking part in traditional farm activities. The show was a satirical take on the lifestyles of the wealthy, as Paris and Nicole were known for their privileged and glamorous lifestyles, and were often portrayed as being out of touch with reality. Throughout the series, the girls faced various challenges and obstacles, and their interactions with the rural community provided much of the show's humor and conflict.
The Simple Life was widely popular during its original run, and was credited with helping to launch the careers of Paris Hilton and Nicole Richie. It was known for its comedic situations, quirky characters, and its portrayal of the lives of the rich and famous. Despite some criticism for perpetuating stereotypes and for its depiction of rural life, the show remains a beloved cult classic.
My Critique
This will be coming soon!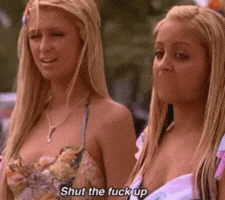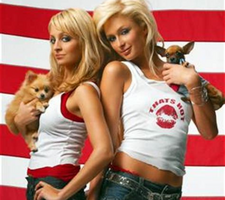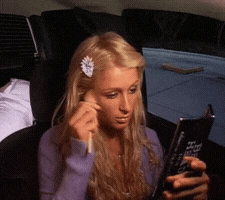 Theme Music
Video Gallery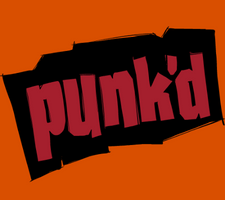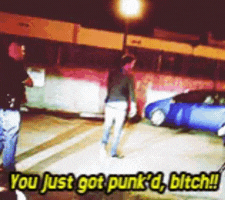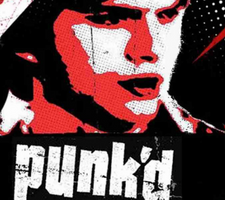 Synopsis
Punk'd
was an American hidden camera television series created and hosted by actor Ashton Kutcher, and was known for its use of celebrity pranks and stunts. Each episode of
Punk'd
featured Kutcher and his team setting up elaborate pranks on various celebrities, with the goal of tricking the celebrities into thinking that they were in serious trouble or danger. The celebrities would then react in real time, and the audience would see their reactions and responses.
The show was widely popular during its original run, and was credited with helping to launch the careers of many of the celebrities who appeared on the show. It was known for its humor, its clever pranks, and its use of celebrity power to bring attention to social and political issues. Despite some criticism for its deceptive tactics and its potential impact on the mental health of its subjects, the show remains a beloved classic among fans of reality television and celebrity culture.
My Critique
This will be coming soon!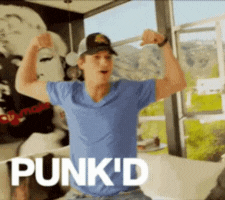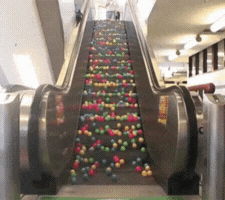 Theme Music
Video Gallery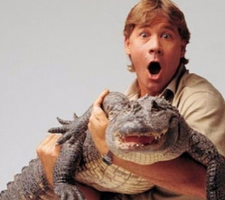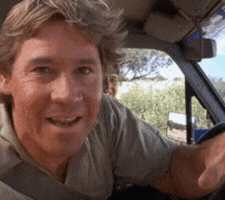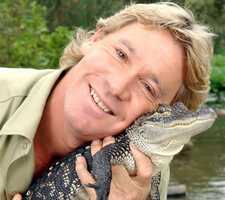 Synopsis
The Crocodile Hunter was a wildlife documentary television series that originally aired from 1996 to 2007. The show was hosted by the late Steve Irwin, a passionate and enthusiastic wildlife expert and conservationist, who was known for his unique approach to wildlife education and conservation. Each episode of The Crocodile Hunter followed Steve as he traveled to various locations around the world, in search of the world's most dangerous and exotic animals. He would interact with these animals, educating viewers about their habits, behaviors, and habitats, and highlighting the importance of conservation and preservation efforts.
The show was widely popular during its original run, and was credited with helping to raise awareness about wildlife conservation and education. Steve Irwin was widely loved and respected for his infectious energy, his passion for wildlife, and his commitment to conservation, and the show remains a beloved classic among fans of wildlife documentaries. Despite some criticism for its handling of wildlife and its potential impact on the animals, the show remains an important part of Steve Irwin's legacy and continues to inspire new generations of wildlife lovers.
My Critique
This will be coming soon!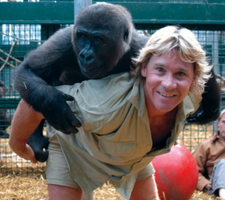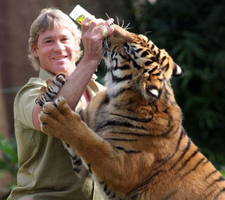 Theme Music
Video Gallery